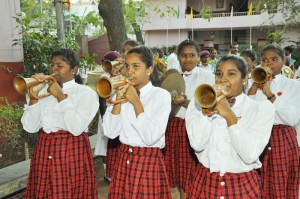 St. Raphael's Girls H. Sec. School celebrated its 99th annual day on Jan.20 at the school premises.
Ramesh Prabha, Chairman, Galaxy Communication Service, Pvt. Ltd. was the chief guest.
The school band welcomed the gathering. An all-religious prayer was held as part of the invocation.

Four retired teachers of this school were felicitated on that day. They are Benjamin, S. Pragasi, C. Jayamary and A. Mary Leela. All of them have put in more than 20 years of service in this school (seen from left to right).
The students presented special cultural programs. Most of the nuns from the FMM congregation were present on the occasion.