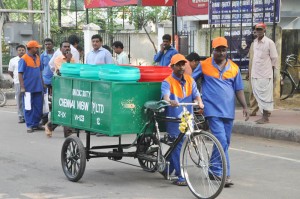 The members of the new army that will keep our streets and roads clean are out. Every morning, the men in uniforms and the women in saris, all in green troop out of the ward level campuses and fan out into the colonies. The cleaners get to work on the streets and the sides, pushing the waste to many corners or into the new, green bins.
At another level, a team of men push their green tricycles and traverse the inner streets, getting residents to hand over waste to them.
There are many bins in these vehicles. Some to store paper, plastic and board – recyclable stuff.The others are for fruit, vegetable and soft waste. The big garbage trucks, all green in colour rolls out twice a day to clear the waste in the big bins.
Ramky Enviro Limited is the new cleaning agency at work in some parts of the city. It has started its work in Zone – 9 this past week. Slowly and steadily, its men and women and trucks will cover the entire zone and move to two other city zones.
CHAT/ GEN. MANAGER, OPERATIONS
S. D. Venkatesh is the GM of Operation at Ramky spoke to Mylapore Times.
The first phase of operation.
We are taking over the conservation work in phases. This is to enable easy cleaning and monitoring.
Door to door operation
The garbage collection will be done door to door soon. Currently, we are collecting all kinds of garbage. The segregation process will start gradually.
Educational acts
A separate team has been appointed to instruct and educate the residents of how to segregate the garbage before disposal. This team will go about distributing pamphlets, put up street plays and play jingles
People in charge
The zonal office for Ramky will be located at Lloyds Colony, Royapettah.
There is a toll free number that residents can use. The number to call will be 1800 425 1566.
The calls to this number will be recorded and the customers will be intimated once their complaint is been addressed.