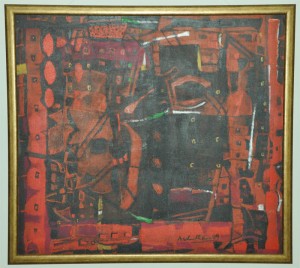 One of Chennai's celebrated artists, Achuthan Kudallur is showcasing his paintings after 10 years. And those who appreciate abstract art will want to check out this exhibition whch opened at the Vinnyasa Premier Art Galery in CIT Colony.
This show is important because it reveals Achuthan's journey these past years.
" The years just rolled by, "he says. " I was busy with camps and shows in India and abroad and then I realised I had left Chennai behind."
Achuthan who came to Madras in 1965 is one of India's leading artists. He works from two spaces – his home in Neelankarai, off the ECR and an apartment in Valmiki Nagar, Thiruvanmiyur.
He says he had to pause last year to collate a body of work that he could show now. "This show is a kind of sorting of my own life, " he says, implying that lots of his paintings are all over the two spaces he uses in the city. " And yet, there will be artworks with me even after the ones on show have moved out," he adds.
Achuthan moved from figurative to abstract art in 1977-'78.
" Colours influence me and my work, "he says. And these are not only the colours that he might enjoy in the Kerala countryside or off the East Coast Road but also "colours in the mind."
He says that colours even influence the size of the canvas of a piece.
At the Vinnyasa show, there will be about 30 pieces of Achuthan's work.
The show is on till January 20, 11 am to 7 pm ( on Sundays, the gallery is closed.).
At 21/11, 1st Main Road, CIT Colony, Mylapore. Phone – 3253 3655.
Achuthan's contact – 98400 80229.