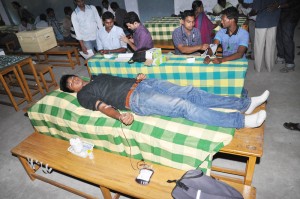 Students of Ramakrishna Mission Vivekananda College participated in a blood donation camp held in the college campus today.
The camp was held in view of 150th birth anniversary celebration of Swami Vivekananda.
The camp will continue on Feb.2. Students of the day and evening streams were encouraged to donate blood, says Anand, NSS Program organiser.
The birth anniversary celebrations will be held till Feb 9. Several contests will be held for students on campus.