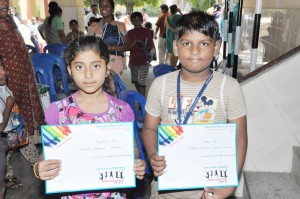 Two Mylapore students, G. Sanchi and S. Gokul of Chettinad Vidyashram School (seen in the photo), were among the winners of the painting contest organised by Vasantha Memorial Trust on Feb.12.
It was held at the premises of Rosary Mat. School, San Thome.
The theme of the contest was 'Cancer free tomorrow'. Over 100 children from various city schools participated in this contest that was held in different age groups.
Cartoonist Madhan was the judge. He distributed the prizes for the winners.