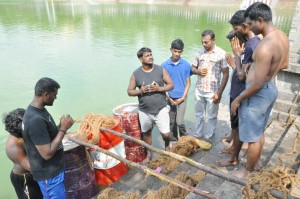 Workers attend a pooja before they start work to build the float at the tank of Sri Kapali Temple, Mylapore.
About 250 large drums will be used to make the skeleton of the float.
The annual teppam fest of this temple will be held from Feb.7 to 9.
You can read a report of the teppam festival here.
The website will be updated regularly with photos and videos of the teppam festival.
You can watch a video of the preparation work at  http://youtu.be/sG1NBFWpvSU