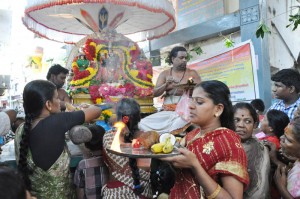 When Lord Singaravelar and his consorts travelled down Mandaveli Street on Sunday morning amidst the buzz of the local market, shoppers looked up to worship.
It was a day that recalled an time worn practice – when the Lord would move out of Sri Kapali Temple and enable his devotees living in the villages on Mylapore's fringe to pray.
Today, the symbolic event is a mere ritual at one end but a lively celebration at the other.
The processionists who exited from South Mada Street and came into Mandaveli area stopped at the door of K. Ellappa Mudaliar & Sons, cloth merchants.
Ramaswamy, the owner came out and offered fabrics to the Lord and his consorts. Ramaswamy said that he was following the tradition of his father who stood by on this day and offered his gifts for over 50 years.
The shop sells veshtis, blouse and shirt bits and fabrics. It has been in this place for over 80 years.
There were a few other devotees who seem to carry on a family tradition that goes with this tour. The procession stopped at their doors.
By noontime, the procession arrived at the mantap near Mandaveli Post Office. The alankaram was changed and rituals performed.
Few people walking down R. K. Mutt Road seemed to notice the goings-on in the mantap.
At about 3 p.m., the procession started its way to Kapali Vanabhojanam Gardens (KVB Gardens), a bustling colony of small houses and apartments in the heart of R. A. Puram. As the audio speakers began to relay music, word spread about the arrival of the Lord.
The processionists stopped at the Sri Devi Karumari Amman campus and allowed men and women to pray.
Closeby, volunteers offered prasadam of sambar sadam and sundal. Others shared their offerings – curd rice, sundal and sweet rice.
For the community of KVB Gardens, it was a special Sunday evening. Some of them stayed on till they saw off the gods.