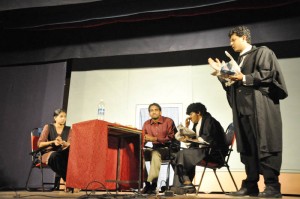 Mylapore theatre group Chennai Drama House staged its play 'Kuruku Vazhiyil traffic jam' at Narada Gana Sabha on April 27. The play was written and directed by Vivek Rajagopal.
It was part of the Kodai Nataka Vizha organised by Kartik Fine Arts. The fest is on till May 5. Series of plays will be staged here daily at 7 p.m.
Other Mylapore-based troupe Agusto Creations' Achu Asai' by Augusto will be staged on April 29.