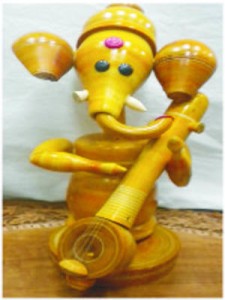 Here is a listing of EVENTS AHEAD in the Mylapore neighbourhood.
SALE
Craft"s Utsav 2012, exhibition cum sale at Sri Sankara Hall, TTK Road. On till April 22. On display are saris from Kashmir, Rajasthan, Hyderabad, Andhra Pradesh, dress materials, dupatta and running materials.
Fabindia is having its summer prints and mulls on display at its store on Dr. R. K. Salai till April 30. A variety of fresh floral prints and patterns in soothing shades are available for men, women and children. On display are also a range of jewellery, crochet bags, clutch bags with embroidered floral motifs and pouches in brocade.
Shilpi located at 9, C. P. Ramaswamy Road, Alwarpet is having a sale of dupattas from across the country. On till April 30.
WORKSHOP
Mindscreen Film Institute is conducting a four days digital photography workshop from May 3 to 6 at 4, Kannaiamman Koil Street, off Dr. Ranga Road, Mylapore.
The workshop will be coordinated and conducted by Diinesh Kumble.
For details call 4210 8682, 2499 6417.
The Madras Youth Choir and Hema Sriram, yoga practitioner is organising a workshop on music and yoga from April 21 to May 4.
This workshop is open to children. The objective is to shape young minds in their character and outlook towards art and society.
The workshop will be held at 5A, Warren Road, Mylapore.
For details call 98408 39040 or email: hema.sriram@gmail.com.
Mind's Eye is organising a "Self Help Skills Camp" from April 30 to May 5. This is open to children of the age group 4 to 9 yrs.
The camp will be held at 25, Karaneeswarar Koil Street, Mylapore. For registration call 98409 71015.
COURSES
Natpu, a NGO for women is organising courses in tailoring from April 25 to May 15. Classes include basic in stitching and making blouses and salwar kameez. It will be held at Srinivasa Gandhi Nilayam, 332, Ambujammal Street, Alwarpet.
MEDICAL CAMP
A free eye check up camp will be held on April 22 from 9 a.m. to 12.30 p.m. at the premises of the National Shrine of St. Thomas. This is organised by Society of Vincent De Paul and Sankara Nethralaya – Nungambakkam.
RELIGIOUS
Ramanujar utsavam will be held at Rangamannar Samedha Lakshmi Narasimhar Sannidhi, 67 Bheemanna Mudali 2nd Street till April 28.
Special poojas and concerts will be held here daily from 7 p.m. onwards.
Ramanujar Jayanthi will be held at Sri Vedantha Desikar Temple, Mylapore till April 26. For more details call 2495 3799.
Inauguration of entrance arch and grotto at Our Lady of Visitation Church, St. Mary's Road by Archbishop Rev. Dr. A. M. Chinnappa at 8.15 a.m. on April 22.
There will be special Mass and blessing. Open to all.
MATRIMONIAL MEET
A matrimonial meet will be held on April 29 at C. P. Ramaswamy community hall from 7 a.m. to 12 noon.
There will be swayamvaru parvathi homam followed by the marriage meet.
Registration fee is Rs.500.
For details call VKR Balakrishnan, 127, Dr. Radhakrishnan Road, Mylapore. Ph: 95660 10459.
FOOD FEST
Benjarong located at TTK Road is hosting Songkran festival treat at its restaurant. This is in view of the traditional Thai New Year celebration. For reservations call 2432 2640.
BOOK RELEASE
Book release. Lettered Dialogue – edited and commentary by K R A Narasiah at C P Ramaswami Aiyar Foundation, Eldams Road on April 20 at 7 p.m.
The book is a collection of select letters exchanged between wellknown writers Chitti (P G Sundararajan) and Krithika ( Mathuram Boothalingam) over three decades.
Open to all.