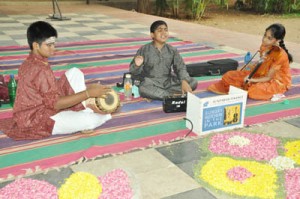 14 year old Abhishek presented a mikeless Carnatic concert on May 6 at Nageswara Rao Park. He is a student of Sir Sivaswami Kalalaya Sr. Sec School, Mylapore.
Abhishek, was accompanied on the violin by V. Deepika Guru and on the mirdangam by V. Sairam Guru.
Sundaram Finance has been organising the monthly Sunday Kutcheri in the Park since February 2006.
Children who wish to participate register at 94450 34557 or 285 21181.