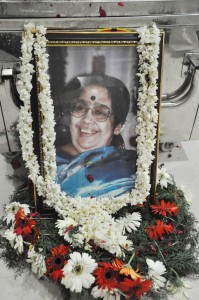 Janaki Viswanathan, wife of music composer M. S. Viswanathan passed away on May 14. She was 73. She was a resident of San Thome.
Many actor, actress and VIPs came to her residence to pay homage.
She is survived by her husband M. S. Viswanathan, four sons Gopi, Murali, Prakash, Hari and three daughters Latha, Madhu and Shanthi.
The family can be reached at 87, San Thome High Road, Mylapore.