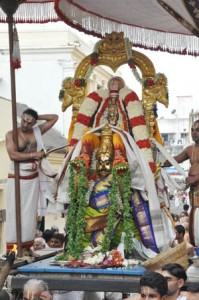 The image of the lord was taken on a procession on the golden Garuda vahanam on May 25.
This is part of the ongoing Nandana Varusha Brahmotsavam that is held at Sri Vedanta Desikar Temple, Mylapore. The festival will be on till June 1.
Here is the brief schedule:
May 29: Ther procession at 5 a.m. and Vadam Pidithal at 7 a.m.
June 4: pushpa pallakku at 7 p.m.
For more details contact the temple 2495 3799.