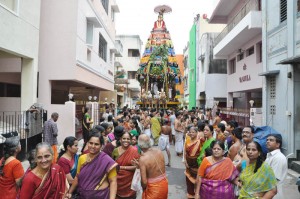 The Ther procession at Sri Vedanta Desikar Temple, Mylapore was held on May 29.
The image of the Lord was taken through the streets. Devotees both young and old pulled the Ther.
The procession came to a halt at a Gangai Kondaan mandapam. Special deepa aradhanai took place here.
This is part of the ongoing Brahmotsavam in this temple.
On June 4: pushpa pallakkuat will be held at 7 p.m.
For more details contact the temple 2495 3799.
To read the previous report on this festival click here.