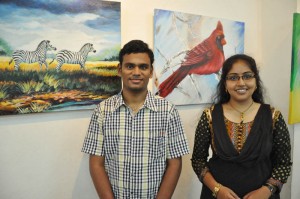 Shrishti School of Culinary Arts and Crafts at CIT Colony organised a painting exhibition of its students at C. P. Art Centre, Alwarpet.
O. Lavanya, a resident of Mandaveli was among those who  displayed their work. She has completed her Visual Communication from MOP Vaishnav College and is currently working as a visual designer.
"I have been painting from her childhood and it is only for the last 5 years that I have been able to get formal training," she says.
The theme for her paintings was birds. and this is the first time Lavanya has exhibited her work.
Other students of Shrishti who exhibited here were V. Naveen, Sai Tejeshwini Rajaram and Fatima.