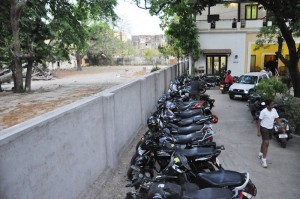 About 15 grounds of land recovered from The Mylapore Club in Luz is to be converted into a parking area.
The land belonged to the Sri Kapaleeswarar Temple and was given on long lease to the Club when it was formed.
The lease expired some years ago but the issue was debated and taken to court.
It was recently reclaimed from The Mylapore Club, says Paranjothi, Executive Officer of this temple.
"We are planning to use this space as an open car and bike parking lot," he said this week.
The authorities have also decided this will be a paid parking zone.
"We have not yet decided if we will be leasing this to outsiders or appoint someone to take care of the operation," he added.
This portion of the land was used as tennis courts and as a parking lot by The Mylapore Club before the temple took it over.
The temple managers had planted sign boards in all the campuses which once belonged to Sri Kapali Temple, stating the ownership of the plots soon after the legal issues were cleared.
 WHAT IS YOUR OPINION?
Is creating a parking space in the recovered temple land the best step or is there some thing more useful a facility that can be set up here in Luz?
Some Mylaporeans say MTC can have a small bus terminus here. Is this feasible and timely?
Share your comments and MYLAPORE TIMES will publish them. Mail to – mytimesedit@gmail.com