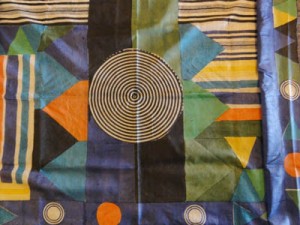 SALE
Mrignayanee, a clothes store is having a Madhya Pradesh saris mela till June 26. It will be open from 10.30 a.m. to 7 p.m. On display will be Maheswari, Chanderi, Tusser, Crape, Chiffon, Georgette and hand block printed saris. Also on display will be hand block printed saris by Ranjana Singh, national award winner for hand block printing. A discount of upto 30% is offered. It is located at 180, Luz Church Road, Mylapore ( TNHB Complex). . Ph: 2498 5497.
Kovai Pazhamudhir Nilayam Mylapore, a retail shop of fruits and vegetables, is offering a discount of 10% off on purchase of fruits, vegetables, juice and provisions. This marks the shop's first anniversary. On till June 18. This shop also sells fruit salads, cut vegetables. The shop is located at Luz Church Road, Mylapore. ( opp. Nageswara Rao Park).
RELIGIOUS
The images of Lord Sri Srinivasan along with his consorts from Sri Vedantha Desikar Temple will be brought to the residence of C. Padmavathi on June 17 at 6 p.m. at 12, Janaki Avenue, Abiramapuram. The religious event is open to all Mylaporeans, says Padmavathi. Ph: 99400 82500.
Sri Radhakalyana Mahotsavam will be held for 2 days at a Mylapore apartment. On June 16 at 3 p.m. Thodaya Mangalam will be followed by singing of Ashtapathis. On June 17 at 9 a.m. to 1 p.m. Unjavruthi followed by Radhakalyana Mahotasavam. Sathguru Mandaliyar of Chingleput will also participate in this Mahotsavam. Venue – Shri Shanti Apartments Sathsangam, 4, Appu Mudali Street. For details call V. Parthasarathy 98843 52750.
COURSE
Architectprep has launched NATA (National Aptitude Test in Architecture) 2013 programme for students of classes XI and XII who would like to become Architects. Classes will be conducted twice a month from June 17 at "Thejomaya", 9, Karpagam Avenue, 1st street, R.A. Puram. NATA is an entrance exam conducted by Council of Architecture for students willing to pursue architecture (B.Arch) degree after their plus 2 exams. Registration closes on June 15. For details call 9444041876 or also log on to www.natafaq.blog.com.
WORKSHOP
Vanilla Children Place and Prep School has organised a 'Daddy & Me' programme for toddlers, children and fathers of the children. This will be held on June 17, For registration call 4206 6660.
Sundaram Finance has organised a workshop for children on making paper bags. Kids in the age group 7 to 11 years are invited. To be held at the Nageswara Rao Park in Mylapore between 3.30p.m. and 5.30p.m. on June 23. All materials will be provided. The workshop is open for 40 children. To register call: 99414 98698.
ART
Prakrit Arts has organised a group show of paintings by various artists from 11 a.m. to 7 p.m. at 102, Greenways Road Extn, R. A. Puram. On till June 30. Ph: 4218 8989.
Artworld is hosting an exhibition of paintings titled 'Indian Ethos' by G.Raman. At 1/12, Ganeshpuram, 3 rd Street, Off Cenotaph Road, Alwarpet. Ph: 2433 8691.
FOOD FESTIVAL
Hotel Savera has organised a Virudunagar food festival. It will be open for lunch and dinner at 146, R. K. Salai, Mylapore. Ph: 97104 21422.
Dewberry Restaurant is hosting 'Watermelon Fest', a range of mocktails like Starwberry Melon Rush, and Melon Medley. At 6/29, Rajasekaran Street, R. K.Salai. Ph: 2847 3439.
CONCERT
There will be a vocal concert on kritis on the Kanchi Paramacharya that M S Subbulakshmi popularised, by V. Deepika, on June 17 at 6 p.m. at Bharatiya Vidya Bhavan, East Mada Street, Mylapore. Ph: 2471 7871. Open to all.