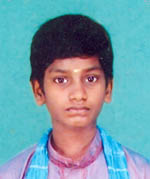 M. Adhitya aged 13 died in an accident on R. K. Mutt Road on May 29. He was a resident of Pillaiyar Koil Garden, Mylapore.
The accident occurred at the Mandaveli Post Office junction.
The boy was standing at this junction opposite the post office, when a MTC bus taking a sharp left turn hit the boy. The boy collided with the lamp-post and name board and died on the spot.
The driver who drove the bus ran away from the spot.
Chief Minister J. Jayalalithaa has announced a sum of Rs.1 Lakh for the boy's parents.
Adhitya was a 9th student of Savitri Ammal Oriental School. He is survived by his parents A. Manogaran, M. Lalitha and younger sister M. Kaviya.
The family can be reached at A Block, 28, Pillaiyar Koil Garden, Mylapore. Ph: 97899 33284.