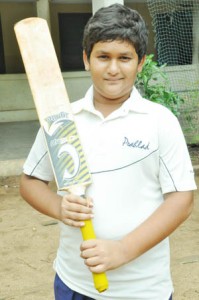 Abishek Venkatesh scored an unbeaten 113 runs, including 18 fours in a recent match in the South Madras Cricket Academy (SMCA) tournament for city schools. He plays for P. S. Senior, Mylapore and is now in Std. 7.
A right hand opener batsman and medium pace bowler, he also plays at the club level.
Aged 12, he is coached by N. P. Balaji of Prahlad Cricket Club.
He has some impressive records to his credit in the sport.
Says his father is Venkatesh Sundararajan, "His coach is the key to his development in the game. We make sure that he balances both cricket and studies. Cricketer M. S. Dhoni is his inspiration. His ambition is to play for the Indian team."
Mother Sheela Venkatesh, a practicing lawyer. His twin brother Abhijith Venkatesh is an off spin bowler and left hand batsman and sister Shilpa Venkatesh studies in 9th standard.
He says he is inspired by his cousin brothers – M. S. Suraj, a 12th standard at P. S. Senior who played for the state under-16 cricket team, and Vignesh a student of class 11 at Vidya Mandir who represented the city under 16 team last year.
Abhishek is a resident of Manasvini Flats, 73/75, Dr. Ranga Road, Mylapore. Phone: 2466 0723.