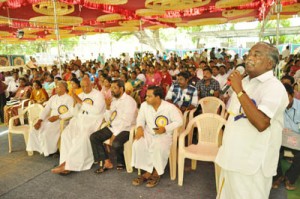 A matrimonial meet for Catholics was organised in San Thome on June 30.
This was held at the St. Thomas Primary School located opposite the Basilica of St. Thomas. The meet was organised by the SC/ST Commission of the local diocese which has its office on Rosary Church Road on the occasion of its silver jubilee.
The chief guest for the event was Rev. Dr. A. Chinappa, Archbishop of Madras-Mylapore diocese, who is also the Chairman of this Commission.
About 60 boys and 75 girls from different parts of the city participated in the event, says Fr. A. Thomas, Secretary cum Executive Director of this commission. He says that the meet was arranged to make match-making a simple, easy process.
Says the priest, "The criteria that we insisted on participating families was that they must not seek dowry and that there should not be discrimination on the basis of caste." Each boy and girl who was seeking a partner was introduced on stage along with his or her family members.
Those interested in the party were allowed to make contact and have a preliminary discussion at the venue. "We were able to match-make 16 couples on the day," says Fr. Thomas.
The Commission intends to hold such meetings every year. It is located at 25, Rosary Church Road, San Thome. Ph: 99405 67918.