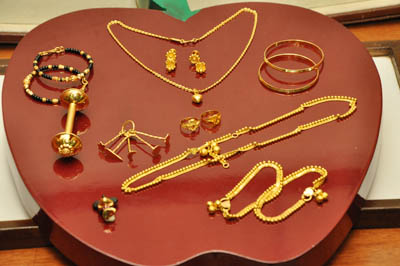 NAC Jewellers, Mylapore has launched a collection of jewels for new born babies and for children.
This collection is branded 'Young Ones' and was launched recently at the shop on North Mada Street.
This collection is available in gold, diamond and silver. It includes both traditional and new designs, and creations based on cartoon characters like Mickey Mouse.
The jewellery range include those of Bengali workmanship.
The jewellery is meant for various occasions – you can shop like a new-born baby set containing items needed for a new born. The products in silver include plates, tumblers and conches while in gold, there are spoons, tiffin plates, tumblers, hip chains, mini chains, anklets and bangles.
The jewels include pendants, neck chains, hip chains, bangles, bracelets, studs and jimki for children. Gift items like silver -coated photo frames, start from Rs.500.
NAC's 39th anniversary sale is also on at the store. There are special offers.
The store is open from 10 a.m. to 9 p.m. on all days. At 58, North Mada Street,Mylapore. Phone 4399 6666/4399 6612.