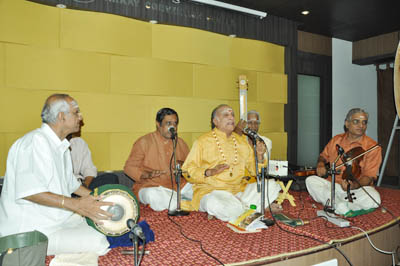 Monday evening's music event at the Arkay Convention Centre in Luz may well have been as routine as the concerts and arts functions that dominate Mylapore's calendar.
Brahma Gana Sabha was hosting a D K Pattammal Remembrance Day, to celebrate the late Carnatic music maestro.
Featured at this concert was veteran vocalist Trichur V Ramachandran.
But the occasion had a special ring to it because news had spread that Ramachandran had been chosen by The Music Academy, a nationally known arts academy in the city for the Academy's Sangita Kalanidhi award.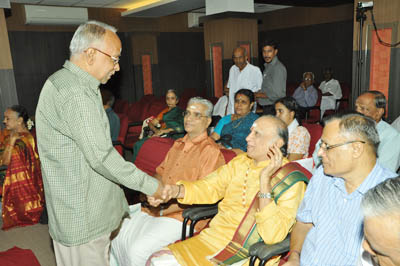 The Sangita Kalanidhi is regarded to be one of the highest awards that Carnatic music artistes are decorated with and is formally given at the Academy's annual music conference and concerts in December.
As artistes and rasikas filed into the Arkay hall on Monday evening, they went up to Ramachandran who was seated in the front row to wish him. Among those present were veteran classical dancer Vyjayanthimala Bali and popular vocalist Nithyashree Mahadevan.
Ramachandran spoke a bit before he started his concert but made no mention of the award's annoucement and prefered to recall his experiences of the music of D K Pattammal.
Ramachandran's guru was the great G N Balasubramaniam ( GNB as he was popularly known) and in his younger days, Ramachandran had made Mylapore his home so that he could be close to his guru's residence.