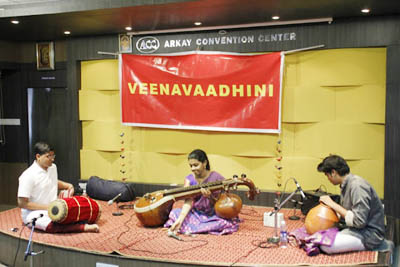 Veenavaadhini, a classical music school based in Mandaveli, celebrated its fifth anniversary on July 15 at Arkay Convention Center Mylapore.
Veena artistes Jeyaraaj and Jaysri, founders of this organisation handle classes at which students are taught to play the veena.
The event began with a veena recital by Venkatramani, a student of Veenavaadhini.
The chief guest for the event was writer and historian V Sriram. He spoke on the occasion and launched the website www.veenavaadhini.com.
Veena vidwan Vasanth Kumar also spoke on this occasion.
Veenavaadhini is located at 12, 25/26 Venkatakrishna Road, Mandaveli. Ph: 98410 65265, 98405 48998.
For more pictures of the event click here.