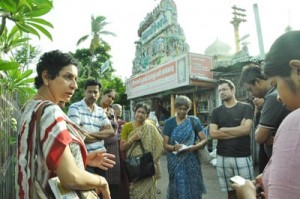 Mylapore has played host to a few events in connection with the Madras Week celebrations which began last weekend and end next week.
There is a great deal of interest in Heritage Walks and small groups are happy to sign up for them.
Dr. Chitra Madhavan, researcher and writer has been doing the Mylapore Tour for some time and her ally has been the small Namma Mylapore group. She led a walk last weekend.
An exhibition on Madras Presidency and early British coins in now on at Ashvita Art Gallery on Dr. Radhakrishanan Road, Mylapore.  It is located on a lane near Hotel President. On till August 26.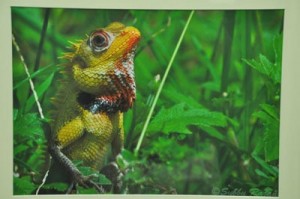 Nizhal, a NGO also organises what it calls Tree Walks – allowing people to explore and get closer to the variety of trees in their neighbourhood. It had a Walk inside Queen Mary's College on August 19. The group was led by Chitra and Srivedi. A few people join the duo.
Nizhal's Shobha says it expects more people to come for these Walks which are free. It has more Walks this weekend.
Studio Palazzo on Seethammal Colony, off TTK Road, Alwarpet is hosting a photo exhibition on wildlife in and around Chennai. This has been organised by Madras Naturalists' Society. The show will be on till Aug.26. Professionals are also presenting slide shows and talks. These are open to all. Chitra Ragulan of Palazzo has been a regular collaborator for Madras Week.
The team from Chettinad Vidyashram School, R. A. Puram won the second prize in the Multimedia presentation contest on Heritage for schools. The theme for the contest was Old Houses of our City. The team consisted of S. Eshwar, S. Vishwesh and Jayant Deshmukh.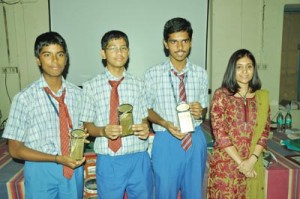 This event was organised by Mylapore Times and supported by L&T. SINA provided the Srinivasa Sastri Hall for the contest.
The teams were asked to spend time on locating a old house, noting its features and recording it in pictures.
An exhibition of photographs and prints of old Madras is on at Vennirul Art Gallery, C. P. Art Centre.
Saidai Duraiswamy, Mayor of Chennai Corporation inaugurated the event.
The exhibition will be on till September 1.
This weekens there are more talks, walks and shows. Details are available at the web site – www.themadrasday.in.