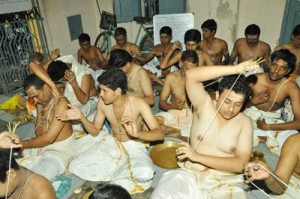 Avani Avittam, holy thread changing ceremony was held on August 1.
Mylai Vaideeka Mahajana Sabha located at Chitrakulam, North Street, Mylapore had conducted this ceremony in the morning at its premises.
Around 50 people including men and young boys, were seen performing the ritual inside the premises.
This was conducted in batches. Another 100 people were seen waiting for their turn to perform the rituals at the entrance.
Mylai Vaideeka Mahajana Sabha can be contacted at 2495 7195.
This ritual was also performed at Sri Kaplaeeswarar Temple, Mylapore.