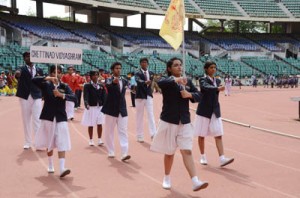 Chettinad Vidyashram has its 27th annual sports meet on July 29 at Jawaharalal Nehru Statium.
R. Radhakrishnan, IPS, Additional Director General of Police (Social Justic and Human Rights) presided.
The event started with march past of the four Houses – Emerald, Ruby, Pearl and Sapphire, NCC cadets, cubs, bulbuls, scouts and guides.
These groups were led by the school band. The primary section students presented a mass drill on the theme unity in diversity. The over all championship was won by the Emerald House.