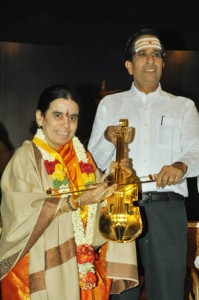 Senior Carnatic music guru and violinist A. Kanyakumari was decorated with an award at the opening evening of the 57th Gokulashtami Sangeetha Utsavam hosted by  Sri Krishna Gana Sabha in T. Nagar on evening of August 11.
V. Shankar, President of Sri Shanmukhananda Fine Arts and Sangeetha Sabha, Mumbai, and the chief guest, confered the birudu 'Sangeetha Choodamani' on Kanyakumari who is a Mylaporean.
A gold plated violin was also presented to Kanyakumari by Shankar.
Kanyakumari has accompanied all the stalwarts in Carnatic music at concerts across the country and abroad. She also has many sishyas.
She continues to be an active performing artiste, often playing alongside saxophonist Kadri Gopalnath.