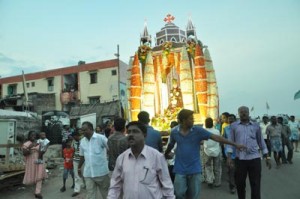 The car procession of Our Lady of Mylapore was held on August 25.
It began from Dooming Street and was taken in a procession to the church.
This is part of the Feast of Our Lady of Mylapore that was held at The National Shrine of St. Thomas.
The feast ended with the lowering of the flag on August 26. A special Holy Mass was held in the evening by Rev. Dr. A. M. Chinappa, Archbishop of Madras – Mylapore.