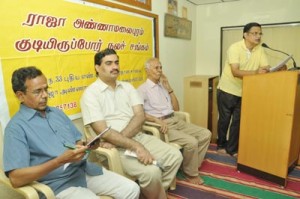 The R. A. Puram Residents Association had a meeting in Mahalakshmi Hall, Park view Street, R. A. Puram on August 12.
Present for the meeting were Sampath, Assistant Commissioner (Zone 9) of the Corporation of Chennai and Revathi, Assistant Health Officer, Corporation of Chennai, Venkatesh, Joint Commissioner of the Corporation.
The meeting started off with a short talk by Dr. Suresh Kumar, a cardiologist on heart attack.
Residents raised series of complains on streets cleaning, providing buses for the citizens on 3rd Cross Street, caring for the roadside trees, storm water drains and other civic issues.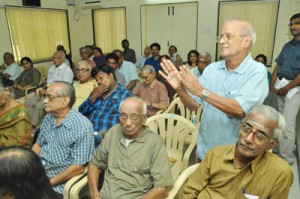 In a interactive session Sampath and other members of the panel answered specific issued and promised prompt action on it.
Vasant Pai aged 97 and a long time resident was honoured. He was presented with a citation for his service to humanity.
For association can be reached at 98410 30040.