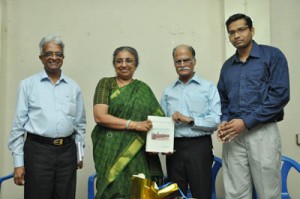 The book 'Famous Judges and Lawyers of Madras', authored by Suresh Balakrishnan was released on Sept.15 at Srinivasa Sastri Hall.
Present for the occasion were Bar Council members and other residents.
Justice K. P. Sivasubramaniam reviewed the book and spoke on it. Justice Prabha Sridevan, received the first copy.
The author Suresh Balakrishnan (36) is a long time resident of Mylapore.
This is my second book; my first one was a biography of M. K. Thyagaraja Bhagavathar, he says.
This book Famous Judges and Lawyers of Madras has the biography of many famous lawyers and judges. I wrote this book within in a period of one year, he says.
This book also has the biography of two or three European barristers, says Suresh.
Apart from written reference I also made contact with these personalities lineage and took quotes from them, he says.
The book is available for sale at C. Sitaraman & Co, R. H. Road, Royapettah and is priced at Rs.595.
The author can be reached at 98846 04800 or catch.suresh@yahoo.com.