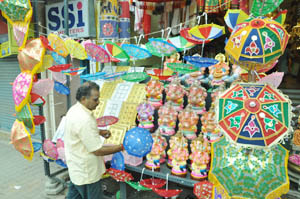 Here are a few places in our neighbourhood where you can get images of Lord Ganesha.
Clay Ganeshas are available in the following places.
A bunch of traditional potters at Veeraperumal Koil Street opposite the Hanuman temple at Luz sell them. Prices start at Rs.25. They are available on the eve of Ganesha Chaturthi.
On the same road at 7, V. P. Koil Street, B. Ravi is making clay Ganesha images ranging from Rs.50 to Rs.350. His images are of 6 inches to 30 inches. He says that the clay comes from Periyapalayam.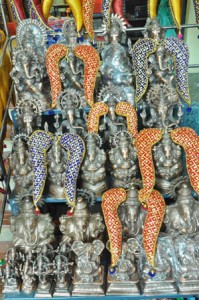 Also sold around the Thiruvalluvar statue here, at Mandaveli market and on South Mada Street.
Papier mache or clay /moulded, coloured images are available at Vijaya Stores (North Mada Street) and Giri Trading Agency, Sannidhi Street.
B. L. T. Stores, North Mada Street, is selling images of Ganesha made of materials like marble, wood, clay and papier meche.
These images are sourced from Mumbai and range from Rs.50 to Rs.9000.
Vijaya Stores  at North Mada Street is selling copper images priced from Rs.100. and papier mache images ranging from Rs.50 to Rs.3000.
It also has umbrellas  in various sizes for the ocassion from Rs.10 onwards.
Vinayaka Palagai is also available here.
Photos from top to bottom: Vijaya Stores selling umbrellas and Vinayaka Palagai, Copper images. 4 feet image made of papier mache, B. Ravi at V. P. Koil Street with his clay images)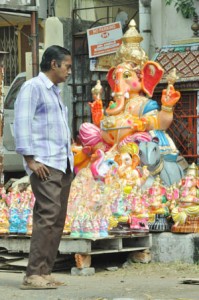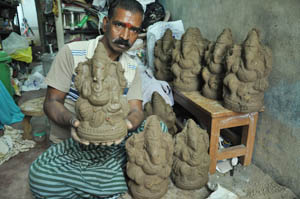 SEND PHOTO OF YOUR COLOURFUL LORD GANESHA.
The Mylapore Times web site will post images that you e-mail to us. Shoot one at the festival and mail to – mytimesedit@gmail.com