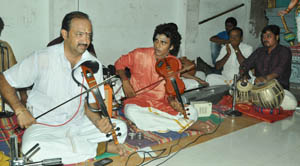 Sri Ranga Mannar Samedha Shri Lakshmi Narasimhar Sannidhi Temple, at Bheemanna Mudali Street had organised a violin concert on September 5.
Vaadhiya Sangamam, a violin concert was presented by Kandhadevi S. Vijayaraghavan in the evening at the temple.
"The violin concert marked the inauguration of the music system donated to the temple a month ago, by the residents and other corporate donors. The system includes speakers, four mikes and it can be used with battery in case of power cut" says Rangarajan, organiser of this concert.(photo below)
The music system is CD, DVD and pendrive enabled.
Musicians Raghunathan and Guru were the chief guest.
The temple is located at 57, Bheemanna Mudali 2nd Street, Abhiramapuram.