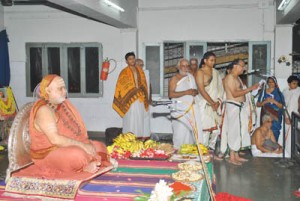 Kalyan Nagar Association (KNA) on evening of October 9.
The swagatha pathrika in Sanskrit was read out by T. S. Viswanathan. He spoke on the various activities taking place at the premises of KNA.
The Acharya rendered his anugraha bashanam.
"His Holiness explained the selfless activities that every individual should perform and said that none should take pride in their activities except place them at the feet of Almigthy"  says one of the members of Kalyan Nagar Association Committee.
Prasadams were distributed to people assembled here.