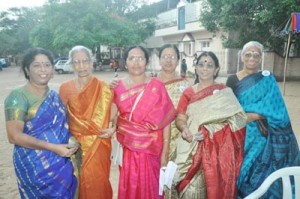 It was rewind time at Raphael's Girls School in San Thome last Saturday when the alumna gathered as part of the school's centenary celebration.
This reunion on Nov.10 was attended by about 300 alumnus from different batches. There were also one man in this gathering – this school was co-ed in ist early years.
The school students welcomed them with a prayer and song. Sister Ranjitham, Headmistress also spoke.
A member of the alumni association read out the annual report. A few women presented a dance and sang a few songs.
Then it was time to rewind. Many shared their memories. Some retired staff who were also present shared their lighter moments on campus.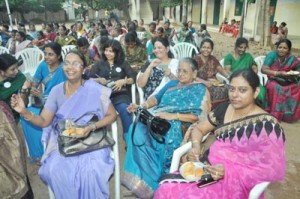 Present among the group were P. R. Seshadri an alumni of the 1952 batch. He was the oldest and the only male alumni in the group.
R. Karuna of the 1965 batch had brought with her, her class group photo. "I wanted to share it with my batchmates here, ", she said.
Baptista Xavier (1962), Mangalam (1957), Lalitha (1974) were once students here and were present too. They had longer memories to share.
M. Alphons Clare (1977) recalled that she was the only one in her class to have studied in the school from LKG to SSLC.
A few games were organised for the guests and the event ended with tea.
PLANS FOR CENTENARY
As part of the centenary celebration the alumni association have made some plans too.
At a previous event ( Teachers Day), it has honoured the retired teachers of the school, says Mangalam, treasure of the association.
On Dec.1 the school is organising its Annual day. During the event the association plans to honour the teachers who will be retiring during this academic year.
"We are also planning to start a scholarship for poor students of the school," says Sr. Ranjitham, Headmistress and the President of the Association.
The association will meet on an annual basis on the second Saturday of November in the school premises.
Those who wish to join the association can contact the school at 2498 5970.
Click here to read the history of this school.