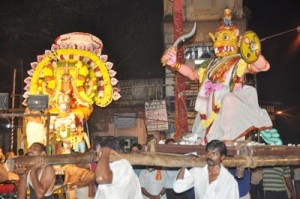 The colourful enactment of the events that highlight Soorasamharam were held at two tempe zones in Mylapore on Monday evening ( November 19). One was around Sri Kapali Temple and the other, around Sri Velleswarar Temple, South Mada Street (seen in the photo).
Legend goes that demon Soorapadman had accquired immense powers and used them to torment the gods. He was finally vanquished by Lord Muruga with his special powers.
The stories behind the legends is played out in open spaces and this is what took place in the two temple zones on Monday evening.
Scores of people lined up the mada veedhis to watch this as volunteers carried the vahanams and donned masks to play their roles at Skanda aasti time.