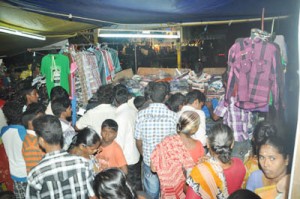 The Deepavali festival mood swirled in Luz and Mylapore this weekend and continued today.
Shops selling clothes, firecrackers and sweets have been jam packed with shoppers making last minute purchases since Saturday.
Street hawkers at Luz and on the mada veedhis kept their stalls open late into the night to cater to the growing number of people heading here (photo on tis page indicates the rush).
Apart from the many private shops that sell fire-crackers you can also head to TUCS shops to buy them. One such shop is located at 2nd Main Road, R.A. Puram junction.
A shop in R. K. Mutt Road that sells briyani has transformed itself and now sells firecrackers.
Many sweets shops have also increased their manpower to cater to the demands.
Sri Krishna Sweets has hired the AVM Rajeswari Kalyana Mahal hall on Dr. R. K. Salai and set up a row of counters to sell sweets, savories, snacks and food items. The sale is open all of 24 hours and will go on till November 13, 5 a.m.
As dusk fell on Monday, crackers began to burst all over the neighbourhood
<<<< You are welcome to share with us photos of your Diwali celebration: mail them to mytimesedit@gmail.com and we will publish them >>>>