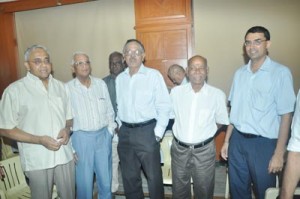 Alwarpet Cricket Club – called ACC in city cricket circles – is celebrating six decades in sport. On Saturday last week, past and present players and managers and promoters of the Club met at Hotel Woodlands, Mylapore for an informal meet.
The occasion was used to recall the founding and early days of ACC, to rewind to its highs and to applaud the men who had seen it through the ages.
It was also a time to recall the work done by its founder, V A Parthasarathi (VAP as he was fondly known), a Mylaporean.
Speakers recalled the immense support ACC got in its early days – from S Parthasarathy ( or Papa as he was known) of The Hindu newspaper, V Pattabhiraman, once a senior head of TNCA ( TN Cricket Assn.), TVS' R Ratnam and K S Narayanan of Chemplast group.
THe Club is now owned by the Sanmar group – its head, N Sankar was present at the Saturday fellowship as was former India cricketer and umpire S Venkataraghavan ( he was not a ACC member though).
Former India player and former chairman of BCCI's selection committee, K Srikkanth who was with ACC for over 15 years regaled guests with anecdotes of his times with the Club.
K. Balaji, director of The Hindu also spoke as did V A Gopal, V A Parthasarathi's brother.
Three people who played in the first match for ACC in 1949 – Samuel Raja, T K Lakshmanan and R Krishnamurthy – were felicitated.
V. Ramnarayan, former cricketer emceed the meeting and V P Narasimhan proposed a vote of thanks.
<< Want to share your memories of ACC? Do post your comments here >>