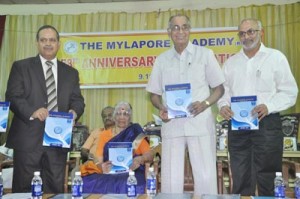 The Mylapore Academy celebrated its anniversary on Nov.9. at Sringeri Jagatguru Pravachana Mandiram hall, Singeri Mutt Road.
Justice S. Mohan, former Judge Supreme Court of India was the chief guest. He released the 58th anniversary souvenir and distributed the prizes and awards.
Also present were Dr. V. Vijayakumar, Vice Chancellor Dr. Ambedkar Law University, K. S. Sripathi, IAS (retd.) Chief Information Commissioner and N. Ram, former Editor in Chief – The Hindu.
Several institutions and individuals were awarded and honoured on the occasion. Some were from the Mylapore neighbourhood.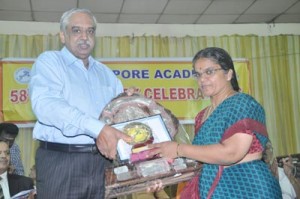 Rosary Matric School won the silver rolling trophy donated by Dr. S. Ramamiurthi Neuro Surgeon for the best matriculation school in city that sent the maximum number of students and secured the highest percentage of passes in 2010 examination.
P. S. Matric School, Mylapore won the silver rolling trophy for best institution in Chennai city for promoting values (photo on left).
Sri Madhavaperumal Temple, Mylapore was awarded the silver rolling trophy donated by the birthday celebration committee of late M. Bakthavatsalam for best maintained temple in the city (photo below).
CSI Hr. Sec. School for the Deaf was honoured for its contribution in the field of education for more than 100 year.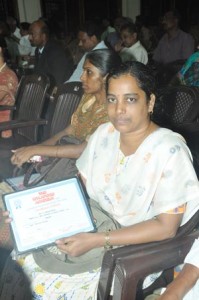 N. Ananthalakshmi, c/o DGMCB and Co., BSNL Telephone Exchange, R. K. Mutt Road was awarded the best technical person (photo on left).
Champalal Savansukha Charitable Trust silver rolling trophy for best library in college in the city was awarded to Queen Mary's College, Mylapore.
Arun Dhanapalan, School of Excellence in Law, D.G.S. Dinakaran Salai, R. A. Puram was awarded a special cash prize for best student.