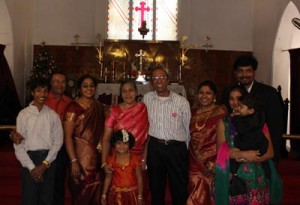 Christmas is one time of the year when families have get togethers and organise a special meal. It is when members of families who live in foreign countries and outside city come together to have a family reunion.
We spoke to a few families in Mylapore who come together to celebrate Christmas.
Bridget Seelan and her family had come down from the USA to be with her parents for Christmas.
She had been in the US for the last 5 years and had come along with her husband Dhanaseelan and children Athara and Aaron.
Her parents Johnson Premkumar and Vasanthi Premkumar are long time residents of Mandaveli 2nd Trust Cross Street.
"This time I planned a long holiday with my family during Christmas", she says.
"I also took this opportunity to be part of the Christmas celebrations organised at my parent's Church", she added.
"Back in the US we never get to go on carol rounds. I joined the group in my church and went on rounds the whole night. I also took my kids, Athara and Aaron around. This was their first time", she says.
"Also this was a time for bonding. My children got to spend loads of time with their grand parents, cousins and other relatives", she says.
Since we planned our Christmas lunch outside we had a pre – Christmas party within our family, says Bridget.
Photo above is of Bridget's family taken in their church during one of their get together.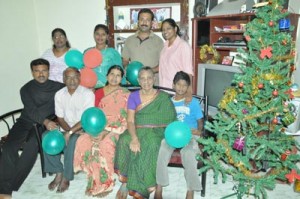 Santiago, Arokiya Mary and their children Patricia Diana and Jackie had come from Pondicherry to spend Christmas with their family members in R. A. Puram (photo on left).
"I make it a point that I come every year to see my mother, Lily Bernard and spend Christmas with my siblings", says Santiago.
"I have been doing this for the last 15 years", he says.
"We are about 25 to 30 of us and all of us go for the night mass. Back home we cut the cake and enjoy wine", he added.
"And on Christmas day we order variety of food and have a family lunch", he says.
"The youngsters organise games and the whole family participate in them. The party started from Dec.24 night and went no till Dec.25 midnight", says Santiago.
"Often we also invite few of our friends to join us for the party", he added.
Lily Bernard is a resident of Periyapalli Street, R. A. Puram.