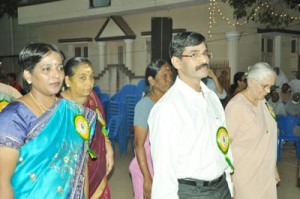 St. Raphael's Girls' School, San Thome had its centenary annual day on Dec.1. Dr. V. Irai Anbu, IAS, Principal Secretary of Government, Personnel and Administrative Reforms was the chief guest.
D. Sai Amudha Devi, Director – Dept. of Telecommunication IP and TAFS was the special guest. She is also the alumni of this school.
Also present for the occasion was Sr. Leena D' Souza, Provincial of Chennai Province.
The school's band welcomed the special guests. The centenary report of the school was presented in the form of a power point.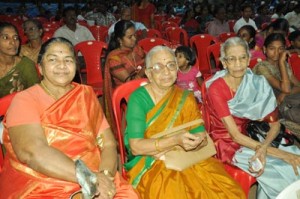 This half an hour production has old pictures and videos sourced from our oldest alumni members, says Lalitha, an organiser.
Another highlight was the dance drama about the history of the school. This was choreographed by Lincoln.
This presentation has a mix of folk dances and songs. It also detailed the evolution of the school to the present stage, she says.
The school's Kho Kho team was felicitated. The school has a record of being the State level champions for the last 25 years, says Lalitha.
N. R. Auxilia a teacher at this school was felicitated. She is retiring this academic year. She is also an alumni of this school.
Retires headmistress Sr. Dulse was present for the event. The school can be reached at 2498 5970.
Photo captions: Top – Special guests V. Irai Anbu, Sai Amudha Devi and Sr. Leena D' Souza. Above left to right – Mona Absalam student of 1952 batch, J. Kamala  retired teacher – 1962, Leela Margaret, retired middle school teacher.
Below left – T. Soosairaj, N. R. Auxilia and Headmistress Ranjitham. Right – students of the choir group.