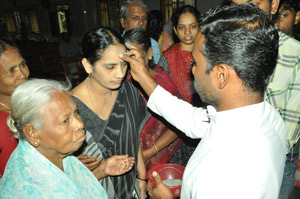 The Christian community has begun its annual Lenten season with Ash Wednesday which was observed today. The season asks the community to dwell of its shortcomings and repent as it reflects on the events that led to the condemnation and death of Jesus.
Ash Wednesday services were held in all local churches. During the Mass, the priest applies a dash of ash on the forehead of members of the congregation, symbolic of the season of penance that each one will want to observe.
The ashes are then result of the burning of blessed palms which families place at their altars at home.
Special services are held through Lent, for 40 days in churches. These lead to the observance of Good Friday and Easter.
This photo was taken at the Descanco Church on St. Mary's Road, R A Puram.