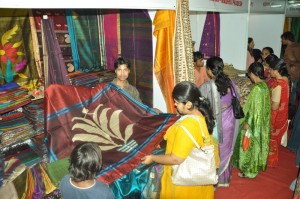 If you are keen to shop for handlooms, your destination should be the Weaves exhibition and sale that opened today at a hall on C P Ramaswamy Road, Alwarpet.
Organised by a Hyderabad-based agency, the Weaves sale is unique in that it brings together a group of weavers/weaving communities from different parts of the country and provides them the space to sell directly to shoppers.
The idea here is to provide shoppers the best in handlooms – saris, salwars, materials and stoles – and cut out the middlemen.
The Weaves show moves from city to city and the sale at the Chennai Corporation hall in Alwarpet is the first in this city.
The first day's sales which have been brisk indicates that those keen to shop for genuine handlooms can bank on the stuff at this sale, that is on till 10th.