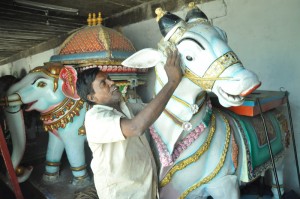 If you now pass by East Mada Street you will know that the Panguni Festival of Sri Kapali Temple is at hand.
A huge canopy has been erected across Sannidhi Square.
In a few days time, the shutters of the shed which houses the 'ther' will go up.
Inside the temple, the whole area has been covered with thatches to enable the holding of  religious rituals in the shade.
Vahanams which are stored in store-rooms here have been drawn out and dusted and cleaned by staff and volunteers.
The festival begins on March 18.
These are the main evens of the fest –
March 18, 9.25 a.m. – Kodiyetram
March 20, 6 a.m. – Adhikara Nandi, Thirugnana Sambandar Vizha
March 22, 12.15 p.m. – Velvidai Vizha
March 24, 9 a.m. – Thiruther
March 25. 3 p.m. – Procession of 63 Nayanmargal ( arbathumoovar)
March 27, 10 p.m. – Thirukalyanam
March 29, night – start of  Vidayatri events