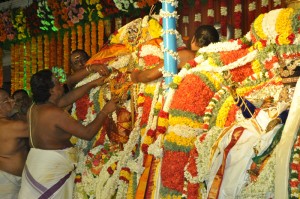 If there was a nice spectacle it was this – the thirukalyanam of the Panguni celebrations here at Sri Kapali Temple.
On a sticky Wednesday night, thousands of people, sitting in the eastern yard o the temple watched the Lord's wedding, keenly following the symbolic rituals that go with it.
The stage was stacked with flowers of all colours and on the side the nadaswaram artistes on a raised platform provided just the music that goes with such an occasion.
With this, the last of the key events of the brahmotsavam of the temple is over.
From Friday onwards, dance and music recitals will go on in the evenings in the navaratri mantap.