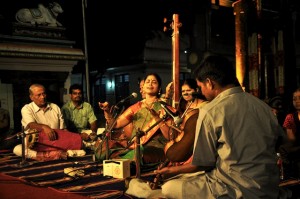 The concerts at the Sri Kapali Temple for the Panguni Festival have been packed affairs this far.
Even the first evening's Kathak recital by the Rajendras and their team here on Friday was packed and the trend has continued despite the heat and the sticky feeling that people put up with as the mercury touched 35 degrees.
On Monday evening, the mantap at the temple was packed even before Nityashree came on stage – she got a warm welcome and a huge applause for her songs. Her sister's daughter Lavanya sang alongside this evening.
Concerts will go on till the 8th.
More photos on the KutcheriBuzz FaceBook page.