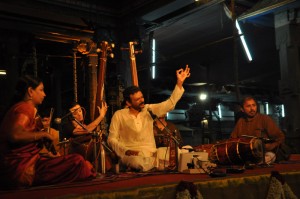 Carnatic music vocalist Nityashree Mahadevan will perform at the Navaratri mantapam inside Sri Kapali Temple in Mylapore on Monday, April 1 evening.
Her concert is part of the Panguni festival concert series which began on Friday last and will be on through this week. T M Krishna is scheduled to perform today.
A huge number of rasikas is expected to be at this free concert – it was only recently that Nityashree has begun to perform since the death of her husband last December in tragic circumstances.
Her concert earlier this year at The Music Academy alongside S Sowmya as a tribute to saint Thyagaraja was a full house show.
Photo here shows T M Krishna is concert on Sunday at the temple