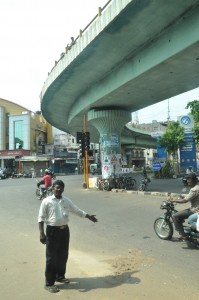 One man is said to have been seriously injured and later died in a nasty accident that took place on the Alwarpet flyover this afternoon.
The man, Stephen, a air-conditioner mechanic of CIT Colony was travelling in a SUV and was flung out of the vehicle and he fell off the flyover on to the road  opposite the SAMCO hotel and at C P Ramaswamy Road.
Onlookers said that the SUV must have travelled at high speed and swung to the right end of the curve in the flyover. Luckily, the SUV did not topple over at this busy lunchhour time. But the man slipped off and fell to the road.
Traffic Police Unit at Adyar are investigating the case.
Later, news came in that the man  had borrowed the old SUV from a friend who had bought it at a defense service unit auction.
<< MYLAPORE TIMES will look at issues that affect motorisst on this flyover, if any. Share your comment here – this may be used in our report too. Are there any dangers you face? Should the railings be raised here?