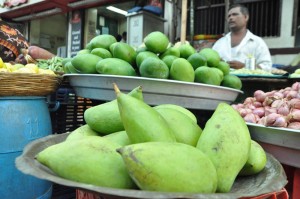 After the flood of vadumanga into the hawkers' stalls on South Mada Street, Mylapore the 'kili -mookku' mangoes are now on sale and in good numbers too.
Shoppers who enjoy eating raw mangoes seem to prefer them.
But some some have other uses for this mango. Do you like these mangoes and what do you use them for? Share your details here and they may be used as part of a story in the Mylapore Times newspaper this week.