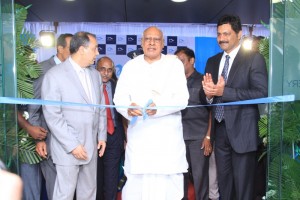 Nova Medical Centers launched its new center at MRC Nagar today. This center was inaugurated by the Governor of Tamil Nadu,  Dr K. Rosaiah. This center brings together reputed specialists with state-of-the-art technology and extensive ancillary services all under one roof.
The center delivers medical services spanning across all specialties including Bariatric Surgery, ENT, General Surgery, Gynaecology, Orthopaedics, and Plastic and Cosmetic surgery, Spine Surgery, Urology, Dental and Maxillo facial Surgery, Pediatric Surgery and Gastroenterology.
This facility will have Dr. Nandkumar Sundaram as the Director of orthopaedics  and a team of surgeons to provide expert consultation and surgical intervention for all surgery related issues. Dr. Sundaram is a leading orthopaedic surgeon specializing in replacements, trauma surgeries, and revision arthroplasty.
The new Nova center is adjacent to the Ayyappan temple and opposite Chettinad Vidhyashram school.
The 57-bed boutique facility spans 44,000 sq.ft., is over eight floors and has 15 outpatient rooms, seven HDU/ICU beds, five state-of-the-art modular operation theatres with three emergency rooms.
The center is equipped with the latest technology and has a pharmacy, diagnostic laboratory, digital x-ray, TMT, ECG/ECHO, PFT and a room dedicated to physiotherapy.
Suresh Soni, chairman and CEO of Nova Medical Centers, says this new center provides world-class surgical care that is affordable and easily accessible to all.
He says Nova has pioneered the concept of day and short stay surgeries in India.
Dr. Mahesh Reddy is co-founder and executive director, Nova Specialty Surgery,
Nova Medical Centers is the parent company of Nova Specialty Surgery and Nova IVI Fertility. It currently has thirteen specialty surgery centers and six fertility Clinics.
It was established in 2009.More information is at www.novaspecialtysurgery.com and www.novaivifertility.com.