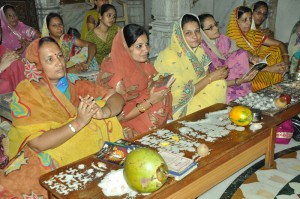 The Jain community celebrated Chitra Pournami in a big way on April 25 morning at  the Shwetambar Jain Temple on Kutchery Road.
They offered prayers at the Sri Vasupujayaswami.
There was a steady stream of people to offer prayers. They sat and read the religious texts while the pujas were on. They also created rice swastiks on tables, said prayers and made that donation.
At the entrance, a man ground a log of sandalwood to paste and gave it to devotees who offered it at the pujas.
It was a day of fasting, going without even water.
Jains treat this as an important religious day, said Mylaporeans who were at this temple.
On the eve of Mahaveer jayanthi, pujas were conducted on Tuesday. Major events took place in Sowcarpet on Wednesday.