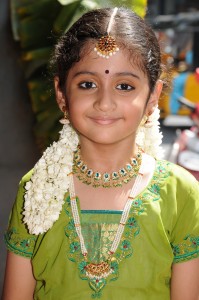 Young Varsha Bhuvaneswari's Harikatha on "Meenakshi Kalyanam'  performed at Narada Gana Sabha for STAR Vijay TV Bhakthi Festival is scheduled for telecast on STAR Vijay channel from June 17 at 6.30am. It will run for 3 or 4 days.
Varsha, aged 10 years is a student at Vidya Mandir, Mylapore. She started learning Harikatha from the age of 6 from the Harikatha legend Thanjavur T. R. Kamalamurthy.
She has been featured on the Bhakthi Fest before and she performs selectively.
She is the daughter of Sreyas Narayanun, an engineer by qualification and an 'A' graded Carnatic vocalist and disciple of P. S. Narayanaswamy and of wife Gayathri,  also a graded vocalist in AIR, Chennai.
They reside at 53/16, Dr. Ranga Road, Mylapore. Phone No: 24959496, Mobile : 9444252683.